Coffee, please!
Although the days slowly lengthen, we are still in this dim period of the year during which we may feel a bit depressed… Or are you one of those cheerful winter fans? No matter on which side we find ourselves, the desire to warm up by drinking a cappuccino, a chai tea or even a hot chocolate with extra whipped cream can overwhelm all of us!
That's why we wanted to share this list of places where it is enjoyable to take a minute and rest, just for enough time to warm your hands (and your heart) with a delicious, steaming beverage. It is a precious moment that you can use to meet up with friends or enjoy by yourself. Why not have a full meal on site while you're there? You'll see, many of our suggestions offer a delicious menu and food cooked with love.
So, are you up for some coffee?
Mareiwa Café Colombien
"Coffee's real culture"
Recently moved to a new room with a charming and soothing decor in downtown Saint-Hyacinthe, Mareiwa Café Colombien is first and foremost a story of wholesome and responsible entrepreneurship. In fact, the owner, Lorena Meneses Urrea, sources her beans in her country of origin, Colombia, by means of a cooperative that employs women and natives in order to produce high quality, organic and fair-trade (not certified) coffee. The beans are roasted in Saint-Hyacinthe. They also serve mouth-watering pastries, such as the famous deluxe pretzel, as illustrated in the photo below.
We love their wide choice of vegetable milks to respect everyone's choices (soy, almond, oats, coconut and rice) as well as their most recent innovation, Combia, a range of cold-brewed coffee that has already won several awards.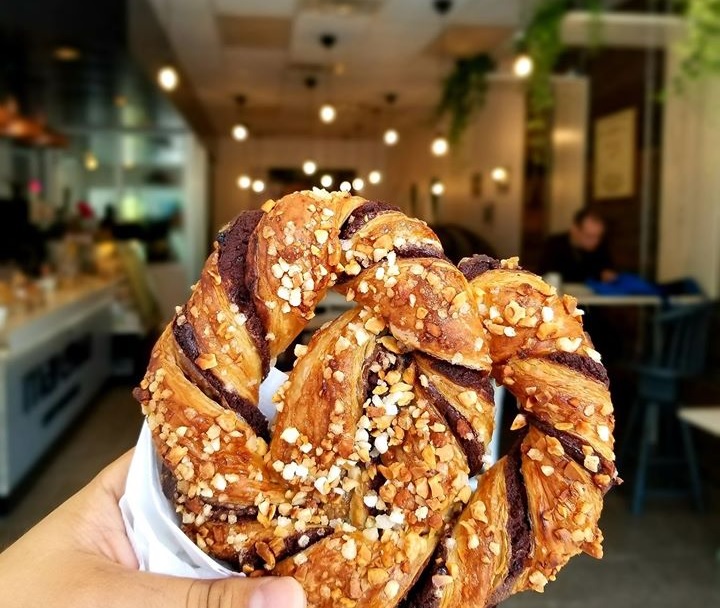 Photo : Mareiwa Café Colombien
Brûlerie Mondor 
"Roasting house"
La Brûlerie Mondor roasts coffees from all over the world in an artisanal way. Brewed into espresso, latte or moccacino and accompanied by a pastry or a meal cooked on site, their coffees will surely charm your tastebuds. The specialty on the menu (in addition to coffee!): grilled cheese sandwiches in all shapes and sized. Try the "Anna" with duck, onion confit, swiss cheese and pear. Appetizing isn't it? They also offer homemade Belgian waffles. The decor is eclectic and charming with its glass garage doors (that do open during summer), its piano, its library of books to borrow and the fireplace which adds warmth to the atmosphere.
A wonderful initiative: the "coffee in waiting". Do you feel generous and want to give to your neighbour? You can pay in advance for coffee and it will be given to someone who needs it and who will take advantage of this short break to warm up.
Shop their range of coffee beans on their online boutique. (French only.)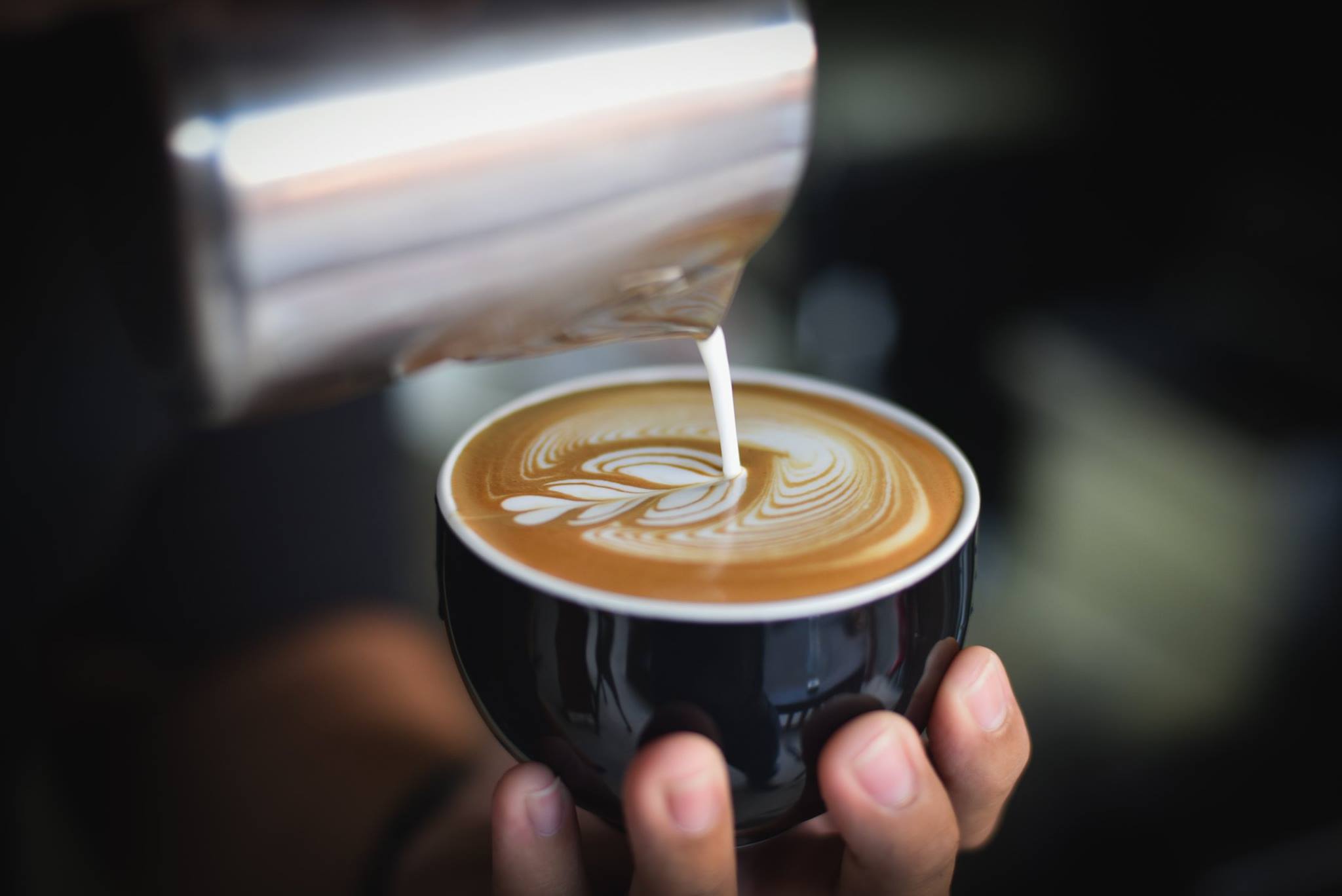 Photo : Brûlerie Mondor
Le Albert Café 
"The European market experience"
The Albert Café is your neighborhood dog-friendly bistro-café that has recently opened inside the renowned gourmet store Les Passions de Manon. Inside, you will discover a refined menu with the best spices, spreads, oils and vinegars sold at the store next door. These exceptional ingredients make delicious soups (with homemade broth) and gourmet bagels and sandwiches.
The coffee served there, as well as the superb decor (the perfect spot for your next Instagram post) represent the tastes of its owner Manon and her team. There is a whole range of drinks, hot and cold, and a variety of vegetable milks to fulfill your wildest drink-related desires.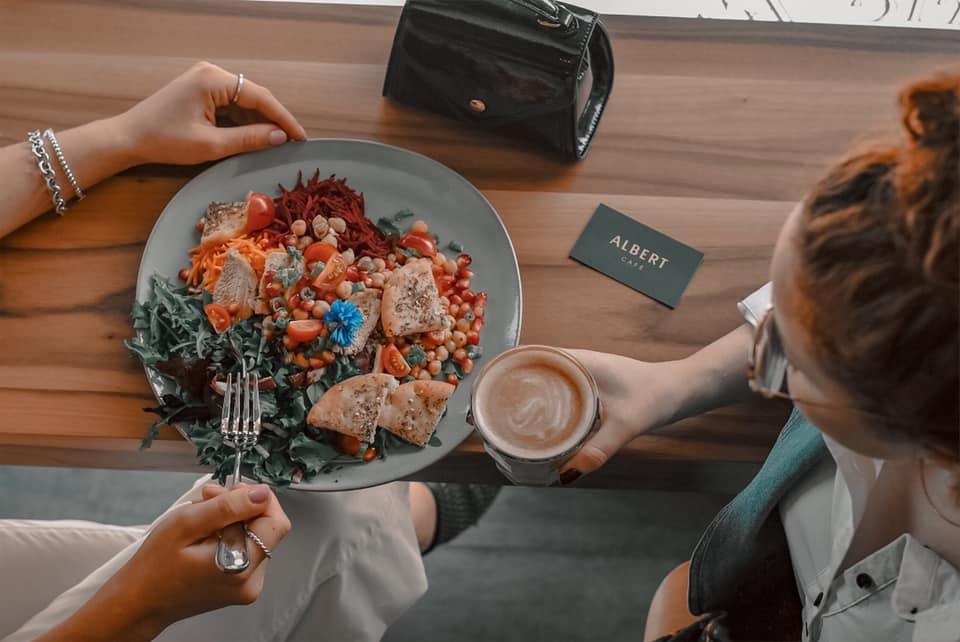 Photo : Le Albert Café
L'heure du thé
« Tea house »
L'heure du thé, a traditional tea house located in the heart of downtown Saint-Hyacinthe, offers tea advice from experts and an impressive choice of loose-leaf tea. Buy it in bulk or taste it on site in a warm and Zen atmosphere. During your visit, notice the register counter, made from an old upright piano. Right next to it, you will find pastries and chocolates such as classic English scones and divine macarons. Their secret? The owner is a pastry and chocolate chef!
You can live the full experience of traditional high tea with a reservation. We highly recommend it! Tea will be served with chic trays filled with canapés, as well as scones and truffles cooked on site.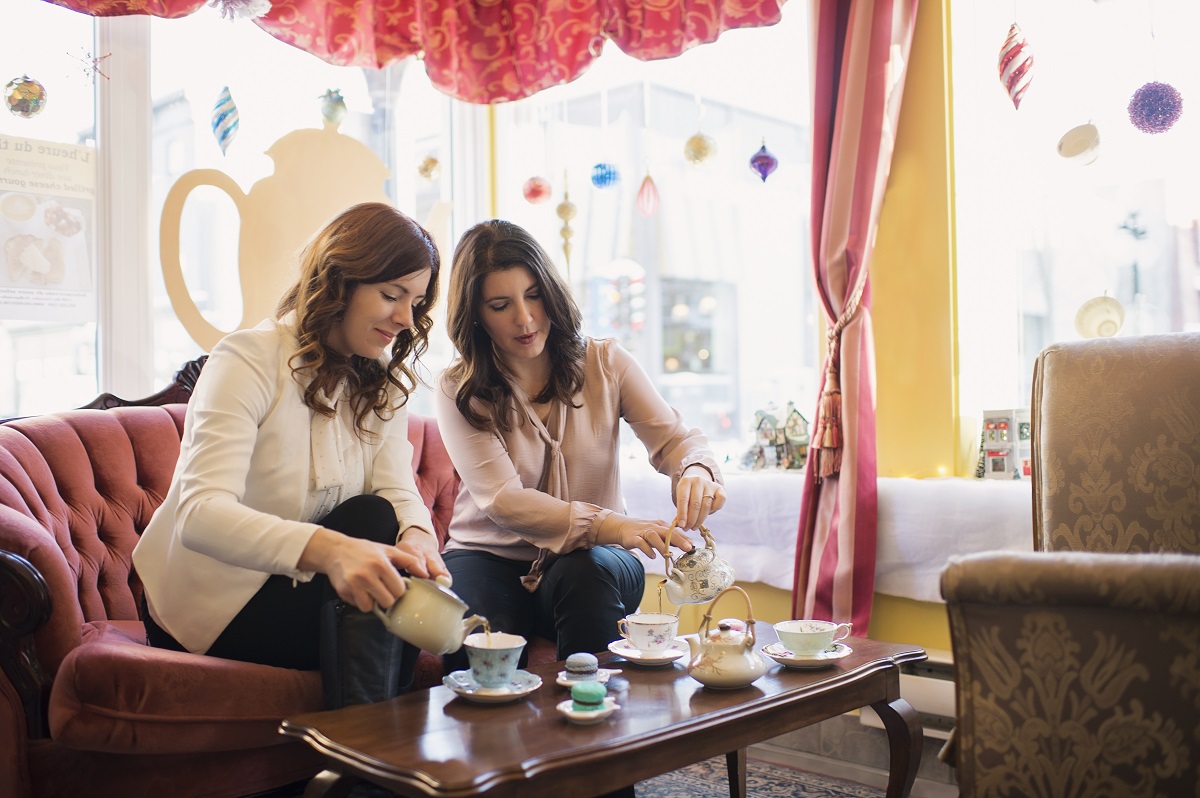 Photo : La Rivest – Créatrice d'image
Bistro La Boulangère 
"Real homemade cooking!"
Yes, you can find everything you would expect from a coffee house at La Boulangère, including the unique aroma of the beans, the noise of the espresso machines, the pastries, etc. But, in this bistro-boutique, you will also be offered a selection of local beers and a very diverse menu of home-cooked dishes: gourmet breakfasts, sandwiches (including the popular Lester's Deli Montreal smoked meat), pizzas, quiches, meatball stew and even a dairy bar in summer.
The bistro, despite its European-style decor, is recognized for its commitment to supplying Quebec food through the "Aliments du Québec au menu" program.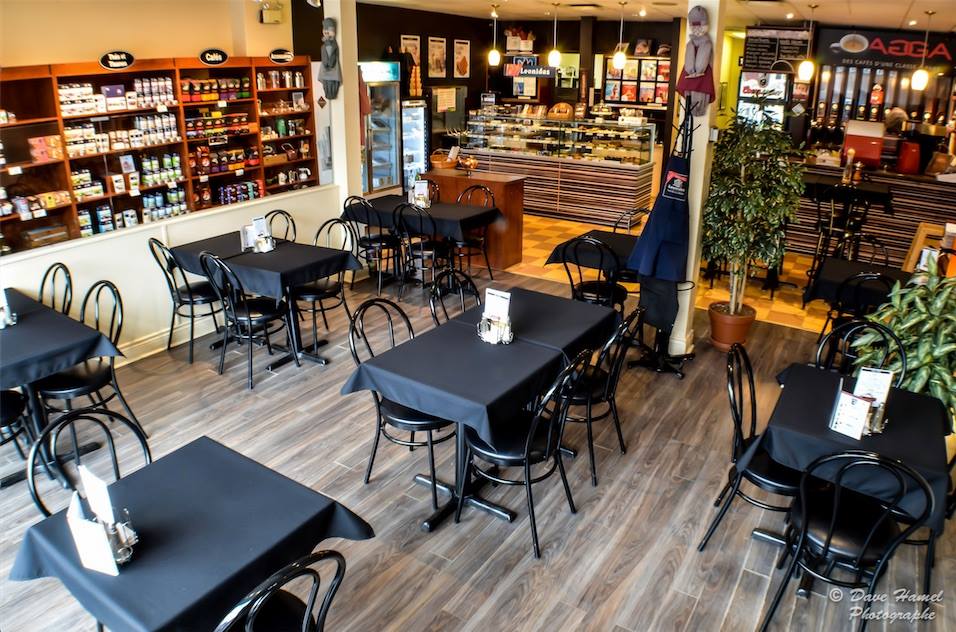 Photo : La Boulangère
Café Bistro Van Houtte

"The first coffee concept in North America"
Did you know that this famous brand is from Quebec and that, in 1975, it was the first café-bistro concept (popular in Europe at the time) in North America? Since then, the Van Houtte cafés, including the one of downtown Saint-Hyacinthe, have been a gathering place where to enjoy a menu of traditional and specialty coffees as well as ready-to-eat meals prepared on site. The choice of sandwiches and salads on display in their glass counter is varied and enticing, especially since they are made up of natural ingredients, in accordance with the mission of the company.
The brand is also a proud partner of Fairtrade Canada. Their coffees are therefore made from certified fair-trade beans thanks to environmentally and farmer-friendly practices.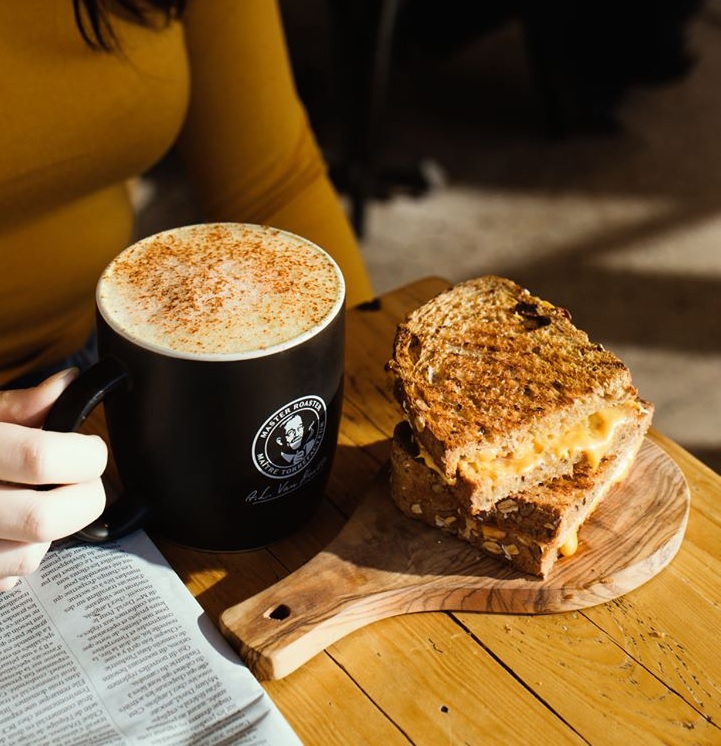 Photo : Café Bistro Van Houtte
Café Dépôt
"Coffee artisans "
When you are hungry or want a coffee break on your next visit to Galeries St-Hyacinthe, consider Café Dépôt. It is sure to please everyone with its varied range of beverages and its plentiful menu. It serves specialty coffees adapted to the seasons, frappés, smoothies, exclusive fine teas and hot chocolates as well as breakfasts, sandwiches, salads and soups prepared fresh every day. Let's not forget their selection of sweet treats that will undoubtedly give you the energy you need for a few more hours of shopping!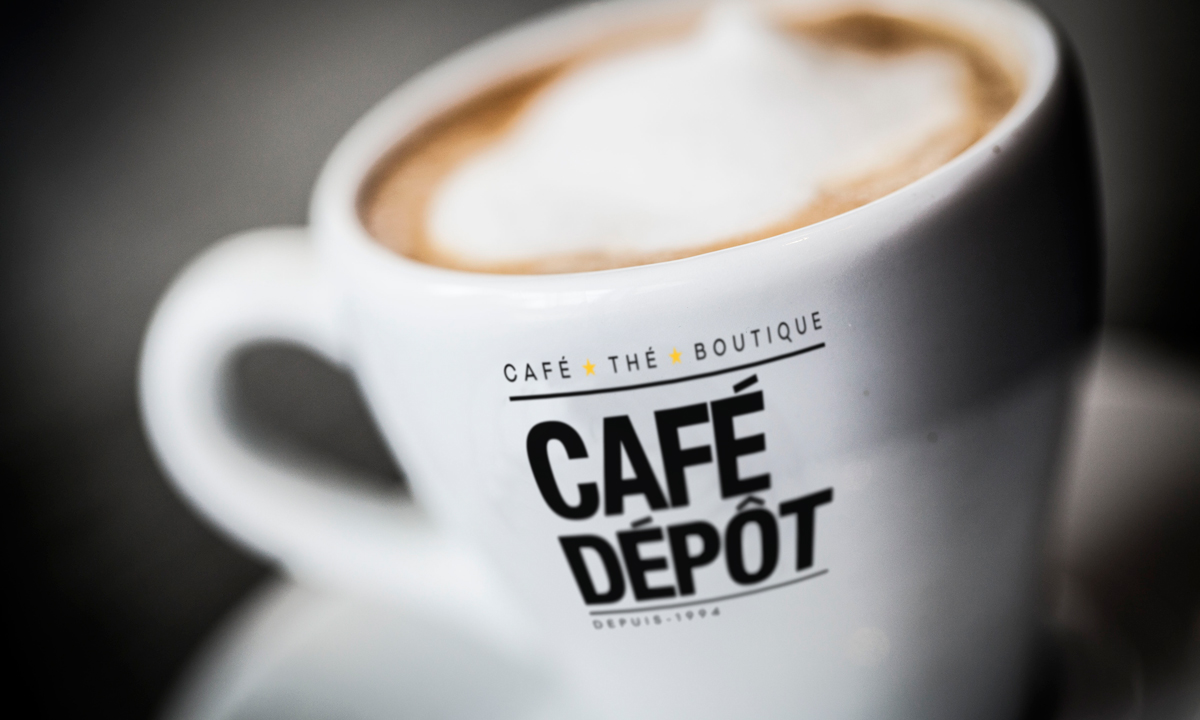 Photo : Café Dépôt
Bistro Caffuccino
"Chic espresso bar"
This time we present the Bistro Caffuccino, recently installed near the Saint-Hyacinthe Congress Center. This banner has its origins in Magog, in the Eastern Townships. Your coffee will be prepared according to the rules of the art in the magnificent espresso bar which sits in the chic decor of the place. A craving? We invite you to try one of their gourmet and legendary cakes. A typical bistro menu is also offered at the counter, including wraps, soups, nachos and meal salads.
They also sell bulk coffee on site or online (French only), a lunch box-style catering service and discounts for students!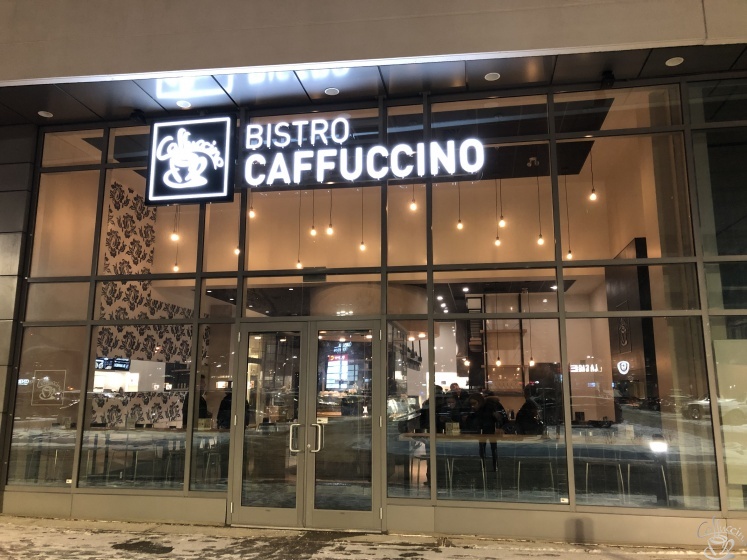 Photo : Bistro Caffuccino
We hope you will spend quality time in one of these welcoming and charming cafés!
Do you want to discover all of the region's gourmet restaurants? Visit the WHERE TO EAT section of TourismeSaintHyacinthe.qc.ca.
Share your photos on Instagram! #tourismesthya