Plan your getaway by calling on our team of destination advisors or make a stop at ici ST-H (tourism information office) during your visit or stay in the greater Saint-Hyacinthe region. A way to make sure you don't miss any of the activities, shows or events going on.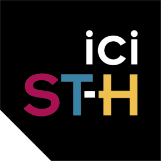 INFORMATION | boutique | vitrine
LOCATEd within Saint-Hyacinthe convention center
1325, rue Daniel-Johnson Ouest, suite 119
Saint-Hyacinthe (Québec)
J2S 8S4
Monday to Friday: 9 am to 5 pm
Saturday: 10 am to 4 pm
Sunday: Closed
Saint-Hyacinthe Technopole
1000, rue Dessaulles,
Saint-Hyacinthe, Québec
J2S 8W1
Saint-Hyacinthe
La Montérégie
Le Québec
Get information from our team of destination advisors, via our interactive terminals accessible 24/7, and via the tourist documentation at your disposal.
local products
ici st-H boutique
To discover some of our local producers, let yourself be charmed by our boutique of food products from local farms and food processors.
La grande région
de Saint-Hyacinthe
Consult our ambient and interactive screens illustrating the activities, events and services offered in Saint-Hyacinthe or discover our thematic mini-exhibition on a facet of our region.